Download it Now: Intel® Computer Vision SDK Beta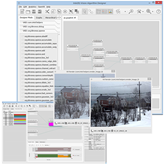 The Intel® Computer Vision SDK Beta is a comprehensive toolkit purpose-built to fast-track development and deployment of vision-oriented solutions for digital security surveillance, autonomous vehicles, robotics, augmented and virtual reality, image processing, and more.
Maximize Performance – Use optimized functions to increase computer vision performance across Intel®-based platforms.
Extend and Customize – Add your own custom kernels into the workload pipeline.
Speed Time to Market – Develop and deploy faster with an easy-to-use library of computer vision functions.
Accelerate Convolutional Neural Networks (CNN) – Leverage dedicated tools that seamlessly optimize trained models for target configurations.
Innovate Artificial Intelligence – Extend AI within your computer vision applications with the included Deep Learning Deployment Toolkit from Intel.
For more complete information about compiler optimizations, see our
Optimization Notice
.