Unsupervised Approaches
Statistical approaches were the earliest algorithms used for outlier detection13. We'll start from outlier-detection-specific algorithms―multivariate outlier detection and BACON* outlier detection. A great advantage of these methods is that they are so computationally efficient that it's easy to apply them to large datasets14. We achieved the best results with six principal components with a high point-biserial correlation coefficient (V11, V12, V14, V16, V17, V18) as features. We used implementations from Intel DAAL and the R* package robustX*. Multivariate outlier detection gave better results for accuracy than BACON outlier detection (Table 2).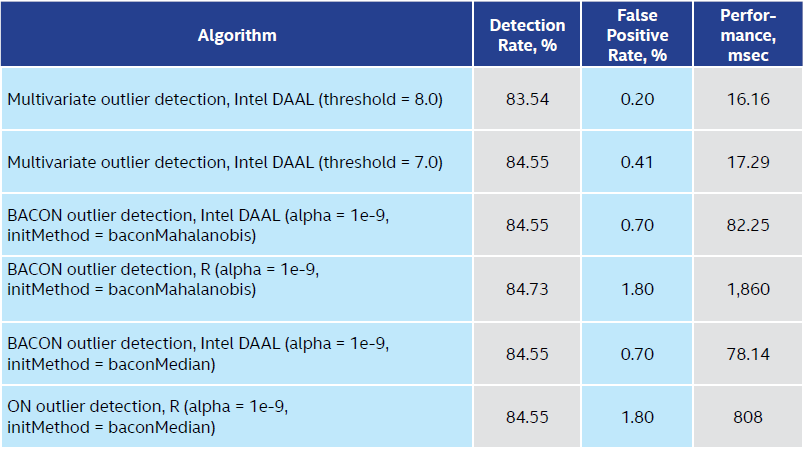 Clustering and outlier detection have a complementary relationship. In clustering, the goal is to partition the points into dense subsets. In outlier detection, the goal is to identify points that don't seem to fit naturally into these dense subsets2. Some clustering algorithms, like DBSCAN*, provide sub-products, which can be considered outliers.
There are many clustering-based approaches to outlier detection2,3,4,15. We'll apply some of them in our tests. Clustering is inherent in credit card fraud because perpetrators usually produce a group of fraudulent transactions16.
There are two types of outliers, local and global. Different clustering-based algorithms can detect both types. The attribute values of a global outlier are outlying with respect to the values taken by the majority of the data points. The attribute values of a local outlier are extreme when compared to those of its neighbors17.
To detect global outliers, we can perform clustering on a dataset and define some clusters as outliers18 (Table 3). We'll perform clustering with k-means and EM, treating small clusters as outliers19. Values of k and n_components were obtained by grid search from range [2, 3, …, 50]. We used the same initial centroids for k-means for Intel DAAL and Scikit-learn*, obtaining them with k-means++ initialization using the implementation in Intel DAAL. We achieved the best results using 17 principal components with high point-biserial correlation coefficients as features. With these methods, we achieved a relatively low false positive rate.

We'll also apply clustering techniques that can detect local outliers20. A naïve approach is to cluster the transactions using the k-means algorithm21 and treat points far from cluster centers as outliers (Table 4).
We obtained a good rate of detections. However, the number of false alarms is high. The reason is that the k-means algorithm is extremely sensitive to outliers, which have a large impact on cluster configuration. As a result, data points that should be declared as outliers are masked by the clustering. Thus, we need to use a robust version of k-means that can gracefully handle the presence of outliers―k,l-means15 (Table 5). Like k-means, this algorithm requires initial centroids. We'll compute them with different initialization algorithms available in Intel DAAL―random, k-means++22, and k-means||23―and compare the results.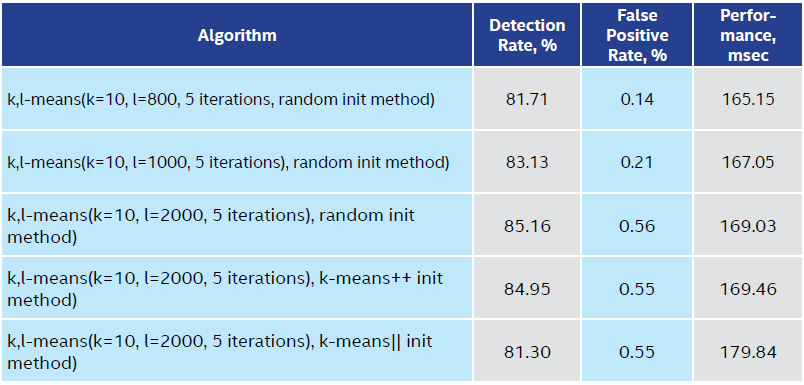 We can see that this approach provides better accuracy than naïve k-means. Results are different for different initializations. The random method proved to be the best for this problem.
We'll also use a density-based clustering algorithm that can detect noise in data (Table 6). A point is detected as noise if it differs significantly from its neighbors. A natural assumption is to treat noise data as local outliers. We used the same six features as for statistical methods. Values of parameters were obtained by grid search. We used the R package dbscan*. We reached a good level of detected frauds with a moderate level of false alarms. However, the performance is significantly worse compared to previous approaches.